Tapas (Serrano Ham, Manchego Cheese and Chorizo) 4 oz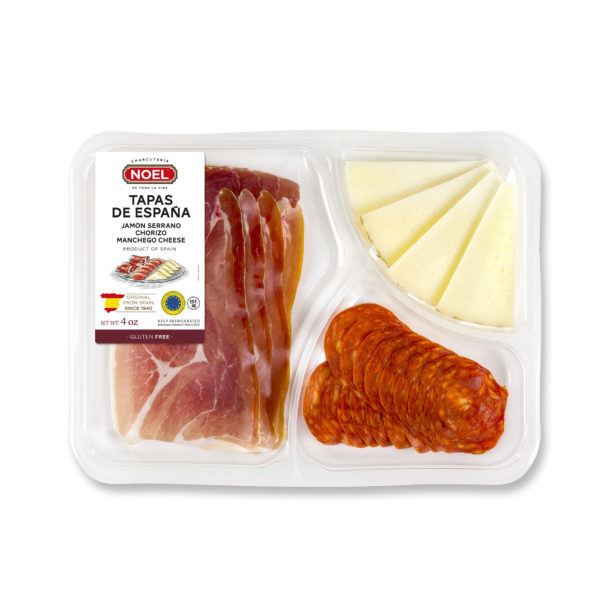 Spanish Tapas
Tapas (Serrano Ham, Manchego Cheese and Chorizo) 4 oz
We'd love to take you out for tapas in Spain. But for the moment we'll bring the best tapas to you.
Gluten-free
Tapas (Serrano Ham, Manchego Cheese and Chorizo)
Ingredients
Serrano ham: pork ham, salt. Chorizo: pork meat and fat, salt, paprika, maltodextrin, dextrose, garlic, sodium ascorbate, nutmeg, potassium nitrate, sodium nitrite, oregano. Manchego cheese: ewe's milk (contains lysozyme from Egg)). Non-edible rind.
CONTAINS MILK and EGG.
Produced in Spain
Storage Conditions
Keep refrigerated between 32ºF and 44.6ºF. Product packed in a protective atmosphere. Once opened, use within 48 hours. Open 10 minutes before use.
Nutrition Facts
| | | | | | |
| --- | --- | --- | --- | --- | --- |
| Serving Size Serrano Ham | 1.6 oz (48g) | Serving Size Chorizo | 1.0 oz (30g) | Serving Size Manchego Cheese | 1.4 oz (40g) |
| Servings varied | Calories 70 | Servings varied | Calories 100 | Servings varied | Calories 120 |
| Total Fat 3,0 g | 4% | Total Fat 9 g | 12% | Total Fat 10 g | 13% |
| Saturated Fat 1.0 g | 5% | Saturated Fat 3.0 g | 15% | Saturated Fat 8 g | 40% |
| Trans Fat 0 g | | Trans Fat 0 g | | Trans Fat 0 g | |
| Cholesterol 25 mg | 8% | Cholesterol 20 mg | 7% | Cholesterol 13 mg | 4% |
| Sodium 560 mg | 24% | Sodium 410 mg | 18% | Sodium 250 mg | 11% |
| Total Carbohydrate 0 g | 0% | Total Carbohydrate 1 g | 0% | Total Carbohydrate 1 g | 0% |
| Dietary Fiber 0 g | 0% | Dietary Fiber 1 g | 4% | Dietary Fiber 0 g | 0% |
| Total Sugars 0 g | | Total Sugars 0 g | | Total Sugars 0 g | 0% |
| Includes Added Sugars 0 g | 0% | Includes Added Sugars 0 g | 0% | Includes Added Sugars 0 g | 0% |
| Protein 9 g | | Protein 6 g | | Protein 7 g | |
| Vitamin D 0 mcg | 0% | Vitamin D 0 mcg | 0% | Vitamin D 0 mcg | 0% |
| Calcium 3 mg | 0% | Calcium 7 mg | 0% | Calcium 230 mg | 20% |
| Iron 0.4 mg | 2% | Iron 0.3 mg | 2% | Iron 0.1 mg | 2% |
| Potassium 172 mg | 4% | Potassium 125 mg | 4% | Potassium 23 mg | 2% |