Boneless Cebo Ibérico ham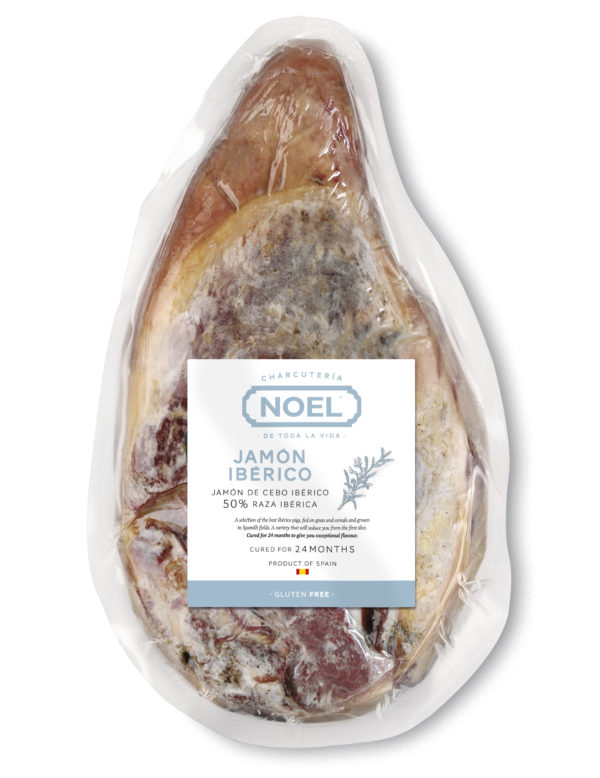 IBÉRICO HAM
Boneless Cebo Ibérico ham
This boneless Cebo Ibérico ham is an exclusive Spanish Ibérico ham, and one of the most typical products of our charcuterie.
Produced from a selection of the best Iberian pigs raised in semi-freedom and fed on pasture and cereals, this ham is cured for 24 months to get its special taste, texture and aroma.
Ingredients
Pork leg, salt, sugar, tri-sodium citrate, sodium nitrite, potassium nitrate, sodium ascorbate.
Storage Conditions
Keep refrigerated between 32ºF and 44,6ºF
Nutrition Facts
Serving Size
1 oz (28g)
Servings varied
Calories 90
Calories from Fat
50
Total Fat 6 g
9%
Saturated Fat 2 g
10%
Trans Fat 0g
0g
Cholesterol 15 mg
23%
Sodium 550mg
23%
Total Carb Less than 1 g
0%
Sugar Less than 1 g
Protein 9 g
Iron
2%
* Not a significant source of Fiber, Vitamin A, Vitamin C or Calcium.